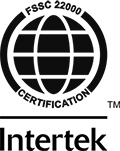 Quality assurance ensures high standards of food safety at Blåtand
Food processing at Blåtand is quality assured and is certified in accordance with FSSC 22000 v5. We also meet the requirements for both organic production and KRAV environmentally friendly and ethical production.
In conjunction with our suppliers we apply high standards across the entire production chain from bush to customer. Food processing at Blåtand is quality assured and certified in line with industry-specific standards.
FSSC 22000 v5 for high standards of food safety
FSSC 22000 v5 certifies that Blåtand meets the requirements for high standards of food safety. Certification is awarded on the basis of criteria for the storage, freezing, sorting and packing of berries, as well the manufacture of jams and fruit preparations.
Organic production and KRAV certification
Blåtand complies with the requirements for organic production and has been certified in accordance with the Council Regulation (EC) No 834/2007. This covers the processing of our berries and the frozen storage facility.
Blåtand also meets the requirements for KRAV-certified production, which covers the processing (reception, freezing, processing, packing) of both wild and farmed berries and the manufacture of jam.
Guidelines for purchasing wild berries
We work only with suppliers who comply with Swedish law, observe Swedish regulations and recommendations and follow the "Guidelines for Responsible Berry Purchasing" social code drawn up by Swedish grocery and food companies.