On-site shop in Stöde for Blåtand's gourmet treats
Adjacent to the Stöde berry-processing factory you will find the Blåtand on-site shop, which is open three days a week. Here you can buy both jam and frozen berries in large and small packs. We also offer a small range of game, fish and other delicacies.
Open: Tuesday, Wednesday and Thursday 11 am to 4 pm.
Berries
The on-site shop sells frozen processed berries (bilberries, lingonberries and cloudberries) in packs of 1.5 kg, 10 kg and 25 kg. Why not take the opportunity to stock up with a year's supply?
Swedish gourmet jam
Our on-site shop is packed with tasty jam classics for the connoisseurs amongst you. Here you can buy gourmet jam made using traditional Swedish methods and with a berry content of up to 70%. Jams made from cloudberries, bilberries, lingonberries and wild raspberries are available in glass jars of different sizes: 120 g, 210 g, 380 g and 880 g. Treat yourself or that someone special in your life!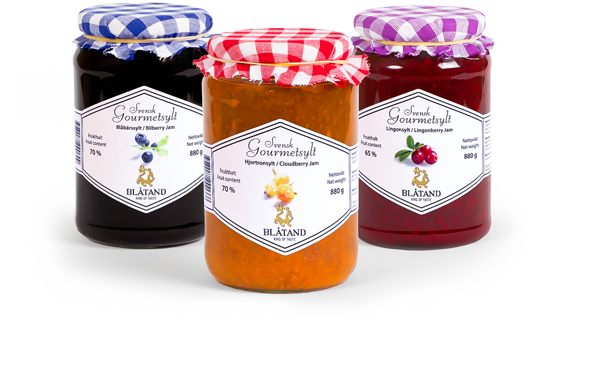 Presents and corporate gifts from Blåtand
We offer gift packs and products for individuals and companies looking to give that little bit extra. The door to the on-site shop is also open to those wanting to buy in bulk for their company, themselves or their family, a year's supply perhaps.
Find us in the beautiful Ljungan valley
Blåtand lies 40 km west of Sundsvall in the beautiful Ljungan valley, alongside the E14.
Our address is Stödevägen 80, 864 41 Stöde.