Blåtand of Sweden, where only the best is good enough
Blåtand is the story of one man and his vision. Of his dream of using berries from the Swedish forest to create the very best natural products of the highest quality and offer them to customers who believe that only the best is good enough. Berries and jam fit for a king from Blåtand, King of Taste.
Once upon a time there was a young engineer and entrepreneur named Ulf, Ulf Hagner. He had a real interest in the Swedish countryside and the fantastic raw materials to be found in the wilds of Sweden. His long forest rambles would see him picking vast quantities of berries which he then took home to make into jam. His passion and drive for producing the best jam from natural and tasty Swedish berries were the ingredients for a success story based on hand-picked bilberries, lingonberries and cloudberries.
And the people saw that it was good.
Blåtand as a symbol of Nordic success, strength and courage.
One day the man set up a food company and named it Blåtand after Harald Blåtand (Bluetooth), the famous Viking king. He chose Blåtand as a symbol of Nordic success, creativity, strength and courage, and as a representation of the spirit that he wanted to foster. Blue teeth are, of course, only to be expected when partaking of Swedish bilberries!
And the people saw that it was good.

Jam-making takes off and Blåtand conquers the Swedish market.
In no time at all upmarket shops around Sweden had discovered Blåtand's excellent jam, and sales took off. When the business outgrew his home, the man decided to build a jam factory in Stöde. It was then that the Swedish dairy industry started to take notice of Blåtand's flavours and expertise in Nordic berries. They began to order preparations of natural berries to flavour their yoghurt and other dairy products.
And the people saw that it was good.
Blåtand had to take on more hard-working employees and extend its factory so that it could increase production and supply its fruit preparations in 1 000 litre containers.

Berry power hits the European market.
Word of Blåtand and its excellent berry products spread to Europe where people were impressed with the full flavours and wonderful whole berries to be found in the jam. Suddenly Blåtand had any number of major European customers importing its jam in tubs and jars from the tiny town of Stöde in the heart of Sweden.
Rumours of a world-class berry-processing factory reach Japan.
Bolstered by its success, Blåtand built a new factory to house a world-class berry-processing facility and a large frozen storage facility that it filled mostly with bilberries and lingonberries. No sooner was this complete than the news reached Japan, and Japanese healthfood customers signed up for sizeable deliveries of prized Swedish bilberries packed full of antioxidants.
Blåtand poised for new adventures in the world market.
Blåtand is now a leading international food company poised for further growth and ready to expand into new markets. It is also looking forward to taking its tasty natural products to connoisseurs worldwide who expect the very best.

King of Taste with motto of "Quality and Service".
Just like its Viking king namesake, Blåtand strives always to be the best in its field. Hence it is known as Blåtand King of Taste and has the motto of "Quality and Service".

Milestones.
1986 Blåtand founded
1993 Blåtand builds a jam factory in Stöde
2007 Blåtand builds a new factory and world-class berry-processing facility
2013 Blåtand upgrades its processing line with double camera sorting and X-ray verification
Harald Blåtand, king of the Vikings
Blåtand is named after Harald Blåtand, the legendary Viking king. The parallels between the Viking times and the Blåtand of today are reflected in our design and logo. And just as Harald had a vision of bigger and better things, we aim to be the best in our field. Here is the story that inspired us:
Born in around 935 in the town of Jelling in Denmark, Harald Blåtand was the son of King Gorm the Old and his wife Thyra. He succeeded his father and ruled for 30 to 40 years until his death in around 985. He was married to Tove, the daughter of a prince from northern Germany, and produced offspring who were also successful, one being his grandson Knut the Great who went on to become king of England.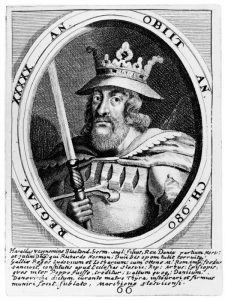 Alliances and victories meant that Harald created a kingdom that extended beyond Denmark to parts of Germany, Sweden and Norway. He is also recognised as having introduced Christianity into his kingdom during his reign.
Harald's victories as a king and his characteristic name of Blåtand/Bluetooth made a big impression in history, which is why his name lives on today.
Our logo and brand.
The Jelling stone is a very beautiful and well-known runestone raised by Harald around 965 in Denmark. One side features a highly ornamental mythical creature – a lion or dragon perhaps – with horns and a long fire-spurting tail doing battle with a snake. This creature is also to be found on other runestones erected by the Vikings in Denmark, Sweden and England. It symbolises courage, strength and success.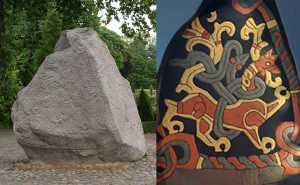 Harald Blåtand's mythical creature is the basis for our logo and symbolises the spirit of our company. It serves as a royal representative of our brand: Blåtand, King of Taste.